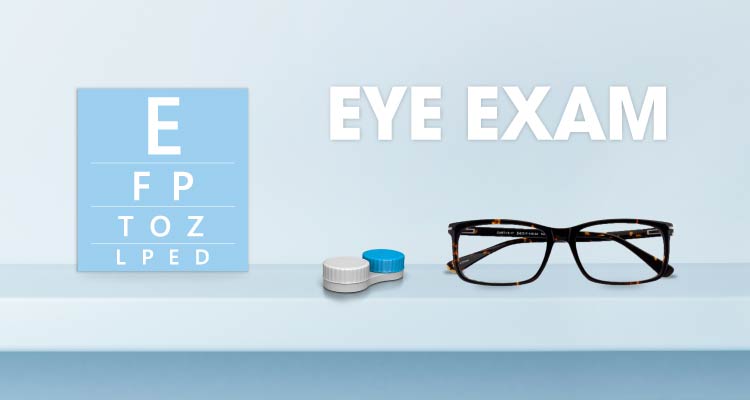 Get a Fast and Affordable Eye Exam Today
Many people don't realize the importance of routine eye care. However, many ophthalmologists (MD) and optometrists, including the CDC, recommend regular eye exams at every age. Eye exams don't just improve your eyesight, but it's an important part of checking your vision health and finding eye disease early to preserve your vision. Eye diseases are common and early treatment is critical to preventing permanent vision loss or blindness.
Here at My Eyelab, we take your eye health and wellbeing seriously. That's why we provide you with an easy and affordable eye exam, performed by our independent eye doctors.
Getting an eye exam at My Eyelab is easy, and the process is as simple and convenient as it gets:
How do I schedule an appointment? At My Eyelab, you can book an eye exam appointment either online, via phone (866-286-7036), or in-store. We offer same day appointments so you don't have to wait. Book an exam for yourself and your children, parents or family members.
Can I access my personal information? You can set up your account online in just 2 minutes. Once you log in on My Account, you will have full access to all the information pertaining to your eye care, such as your contact details, appointments (with ability to reschedule your appointment as needed), previous orders, medical history, and your prescription. Click here to access My Account now.
Do you take walk-ins? Get an eye exam any time in our stores without a prior appointment by just walking-in. Glasses break, your contacts expire, one day you start seeing blurry. Things happen and perfect vision can't wait. That's why we offer walk-in eye exams. You can find your nearest store now.
How much does an eye exam cost? Eyeglass eye exams are as low as $45 without a purchase or insurance. Contact lens exams are as low as $89 and also include an eyeglasses prescription. The exam includes a retinal scan and full vision health check in addition to your prescription. We also have amazing deals in-store that include the cost of your eye exam when you purchase glasses.
Also, don't hesitate to mention you have insurance. We accept vision insurance, FSA, HSA and CareCredit.
Getting your eye exam at My Eyelab
The eye exam process includes a thorough evaluation of your visual health. Whether you wear eyeglasses or contacts, we offer eye exams for both.
The process:
1. Patient Medical History
You can fill out your patient optical and medical history in-store on our digital tablet or in the comfort of your home by creating your online account. Filling it out at home only takes about 15 minutes and speeds up the process in-store. Click here to log in or create My Account.
2. Pre-Screening Tests
Our technicians will guide you through five screening tests to better understand your visual health. The complete eye exam will also look for early signs of serious eye diseases like glaucoma, diabetic retinopathy and cataracts.
Below is the list of the 5 Pre-Screening Tests included in your exam:
Autorefraction
Keratometry
Tonometry
Retinal Evaluation
Visual Fields
After administering the tests, you will be guided to a private and sanitized room to test your prescription with an Acuities & Refraction Exam. This exam is performed virtually through our telehealth technology.
3. Slit Lamp Examination
This assessment is also performed by our technicians, as required. It's goal is to evaluate the health of the front of the eye where cataracts and dry eye syndrome can develop.
4. Final Review & Prescription
An independent optometrist or ophthalmologist (MD) will evaluate every test result in order to create your vision assessment and write your new prescription.
What to Bring with You
Any current eyewear (glasses or contacts)
Your latest prescription
If you have insurance, please bring your card. Read more about the insurance plans accepted at MyEyelab.
We require wearing a Covid-19 safety mask in-store.
For a faster experience in-store, please fill out your Medical History intake form on MyAccount before your eye exam visit.
Our staff at My Eyelab is committed to your visual health and wellbeing. We look forward to seeing you soon!