How To Select The Right Lenses To Avoid Eye Strain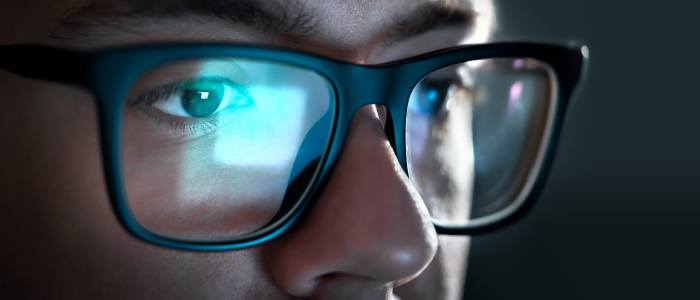 How long have you been wearing glasses? Maybe it's been a few years and you think you've found the perfect lenses. Or you could be just getting glasses for the first time and need help choosing the right lenses. Either way, we have some tips that are useful for both groups. As your lifestyle changes over the years, chances are that your ideal lenses will also change, so it's good to reevaluate periodically. Check out these common lifestyle questions to determine the type of lenses you need:
HOW LONG DO YOU USE A COMPUTER EACH DAY?
If you use a computer for work (like countless Americans do), all that screen time might be hurting your eyes. Are you getting enough sleep? Do you get frequent headaches? Does your vision get blurry when you've been using your computer? If you answered "yes" to any of these questions, you might be a good candidate for blue light blocking lenses. This technology is designed to reduce digital strain. It's more convenient than ever to add this feature to your prescription when you order your glasses from My Eyelab, and you might just find that some, or all, of the eye strain problems listed above are reduced or eliminated. You can even add Platinum Blue Anti-Glare to non-prescription lenses.
HOW OFTEN DO YOU GO OUTSIDE?
If you wear glasses and spend a lot of time outdoors, you've probably noticed that glare can be a real problem. Lenses can make glare from water especially problematic, which is where polarized lenses become helpful. Polarized lenses are a great option for prescription sunglasses that reduce glare.
People who spend a lot of time outside also know that it can be a real hassle switching back and forth from glasses to prescription sunglasses. Photochromic lenses allow you to enjoy the benefits of both! When it gets bright out, they transition from clear to tinted so you don't need to reach for your sunglasses.
As always, My Eyelab can help you design a custom pair of prescription glasses using polarized or photochromic lenses to suit your style and budget.
HOW ACTIVE ARE YOU?
If you (or your child) are especially active, you know what a hassle it can be to scratch up a pair of glasses. Given this, it might be worth investing in impact-resistant glasses that are designed to withstand falls without easily scratching or breaking.
HOW STRONG IS YOUR PRESCRIPTION?
If you have an especially strong prescription and have been wearing the same pair of glasses for years, you might not know about the advancements that have been made with high-index plastic. High-index plastic lenses are much thinner and lighter than the lenses of the past. Many people who used to have to wear glasses outfitted with thick lenses are now able to utilize this slimmer and more versatile material for great results. These are just a few lens tips to keep in mind when you order your next pair of glasses. My Eyelab can make the process simple and speedy – contact us today
Need an eye exam?
Schedule your
FREE
eye exam at a My Eyelab location near you!