How To Find The Right Eyeglass Frames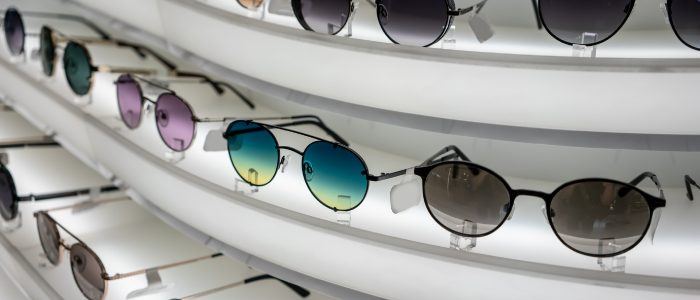 Looking for some new eyeglass frames to kick off springtime? My Eyelab has exactly what you need! We partner with leading vision wear vendors and offer a wide selection of styles, all at affordable prices. Our experts have helped countless customers choose just the right frame based on their lifestyle and needs, and when you stop into one of our stores, we'll be glad to assist you one-on-one. For now, here are a few pointers about choosing the perfect frames.
FACE SHAPE IS A CONSIDERATION FOR SOME
Many of our customers wonder about which frames they should choose that complement the shape of their face.
Rectangular frames can add definition to round faces and help draw attention away from the forehead.
Round or cat-eye frames help soften a square jaw and work best for square or heart-shaped faces. Rimless also helps provide contrast to an angular face.
Wide and over-sized frames work best for oval and heart-shaped faces to help balance out proportions.
Keep your best features in mind when browsing frames and try to choose a pair that doesn't detract attention from them. At My Eyelab, we have a selection of more than 2,000 frames, and we want our customers to try various styles and colors. Our wide selection includes something for everyone, and the best way to find frames you know you'll love is to consider lots of different options.
WHICH EYEGLASS FRAMES FIT YOUR STYLE?
When considering new frames, choose a style that will fit into your regular wardrobe. Envision how they'd look with all your favorite clothes. Will you be excited to wear them every day?
Some people don't want their glasses to be the highlight of their outfit, so they go for styles that are rimless or wireframes. Others opt for bolder acetate frames in a tortoiseshell-look, are transparent, or come in a rainbow of color choices.
The best part about shopping with My Eyelab is that our prices are so low, you don't have to limit yourself to choosing just one pair! Many people opt to buy two or three so they can easily change their style with their mood.
TRY SOMETHING NEW
If you've been wearing glasses for a long time, chances are you've already found a look that fits you best. If you've been wearing just one style for years, why not try something new? Color is always a fun way to experiment with a new look that speaks to your personality. A major benefit of retailers like My Eyelab is that you can walk in and try things on, our specialists are there to assist you and provide guidance as needed.
We want to be your single destination for total vision health. We think you'll find that our eye exams are simple to schedule (you can even walk right in without an appointment!) and more comprehensive than the exams offered by our competitors. Order your contacts and glasses right from our stores after your exam, or whenever you need them! Stop in today and see the difference for yourself.
Browse our frame assortment online or contact us today to find your nearest My Eyelab vision health location.
Need an eye exam?
Schedule your
FREE
eye exam at a My Eyelab location near you!