How To Clean Your Eyeglasses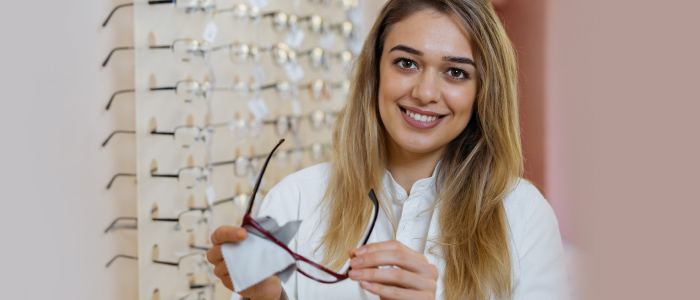 Eyeglasses can harbor dirt and bacteria. Because of the Coronavirus, it's very important to keep your eyeglasses clean and free of debris. Bacteria growing on glasses can make you sick, and dirty lenses can cause eye strain and headaches.
These guidelines help you properly care for your eyeglasses:
DO:
LENSES
Wash: Grease and dirt from your hands can easily transfer to your lenses, so wash your hands before touching your glasses.
Wipe: Remove dirt and debris from your lenses with a microfiber cloth.
Rinse: Use distilled water or tap water to rinse your lenses.
Spray: Spray your lenses on both sides with eyeglass cleaner or use dish soap.
Rinse Again: Rinse your glasses again and shake off any excess water.
Wipe Again: Use a lens wipe that contains isopropyl alcohol for one last wipe of the lenses.
Dry: Spray canned air to dry the lenses.
FRAMES
Wash: Dip your fingertips in dish soap and apply it to your frames.
Rinse: Rinse thoroughly. Shake the excess water off.
Wipe: Wipe the nose pads and earpieces of your frames with a pre-moistened wipe that contains isopropyl alcohol.
DON'T:
Don't Wipe Glasses on Your Clothes: Clothes contain dirt particles that could scratch your lenses. Don't use your clothes to wipe or clean your frames.
Clean with Household Products: Household cleaners can contain harmful chemicals that may slowly disintegrate the protective coating on your lenses.
Throw Away Your Case: When you're not wearing your glasses, keep them in the case that was provided when you purchased them.
Need an eye exam?
Schedule your
FREE
eye exam at a My Eyelab location near you!