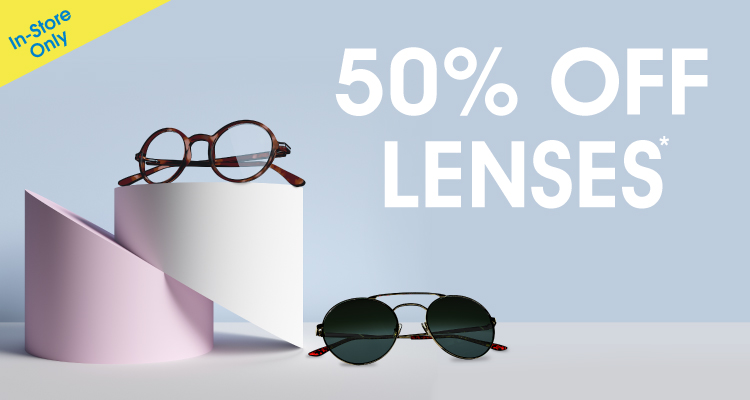 Get 50% Off Lenses*
At My Eyelab choose your favorite lenses in the material you want: standard plastic, polycarbonate, and more! Our team is ready to help you find the most stylish set of glasses with 50% off lenses today!
50% Lenses FAQ
Q: Does this include the frame? The frame needs to be bought as an additional cost?
A: Frames not included.
Q: What are the type of lenses?
A: Standard plastic lens, thin plastic lens, thin impact resistant polycarbonate lens, thinnest high-index lens.
Q:What are the material of the lenses?
A: Standard Plastic, Mid-Index Plastic, Polycarbonate, High-Index, Other Lens Materials.
Q: What are the lens coloring options?
A: Standard lens tint, gradient lens tint, polarized, photochromic, no lens tint.
Q: What about the additional options?
A: Super hydrophobic anti-reflective coating, standard hydrophobic anti-reflective coating, scratch resistant hard coating, UV-protection, Roll & Polish.
Q:Does the discount apply to these options?
A: The discount does not apply to any special feature or add-on.
*Get 50% off the regular price of any lenses purchase. Cannot be combined with other offers or insurance. Excludes frames, contact lenses, the cost of lens add-on options, and the cost of the eye exam. Additional services or upgrades may change price of offer.

FLORIDA RESIDENTS: the patient and any other person responsible for payment has a right to refuse to pay, cancel payment, or be reimbursed for payment of any other service, examination, or treatment that is performed as a result of and within 72 hours of responding to the advertisement for the free, discounted fee, or reduced fee service, examination, or treatment.