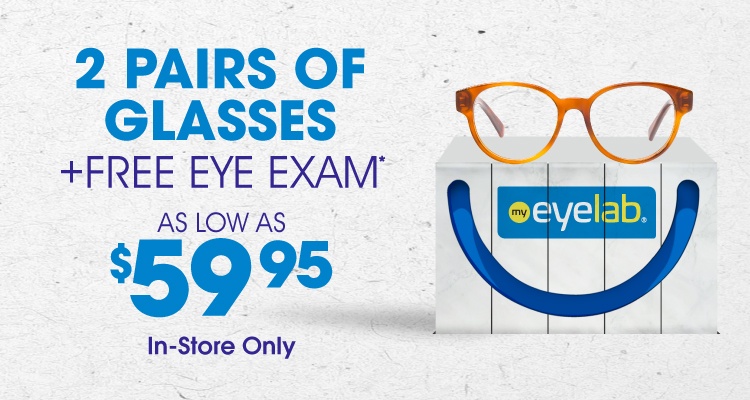 Get 2 Eyeglasses as Low as $59.95 And a Free Eye Exam*
One pair of glasses is never enough! Get two complete pairs of single vision glasses, plus a personalized eye exam by one of our independent eye care doctors—all for only $59.95.
If your eyes are getting tired while working or reading, or you are feeling it is too hard to focus on the things you need to do, maybe an eye exam and new glasses can help you!
*Offer available in-store only. Valid on frames $19.00 or less with single-vision plastic lenses and a total power of +4 to -6 up to +/-2 cylinder. Cannot be combined with other offers or insurance. Additional services or upgrades may change price of offer. Customer will be charged for the cost of the eye exam and will receive a credit against the value and/or bogo 2 pair offers equal to the lesser of the cost of the eye exam or $45.00 ($59.00 in AR, OK, MS, and AK). Eye exam otherwise has no cash value. My Eyelab does not perform eye exams. Eye exams available by independent eye care doctor located within or adjacent to My Eyelab retail locations. For a complete list of details, see a sales associate.

FLORIDA RESIDENTS: the patient and any other person responsible for payment has a right to refuse to pay, cancel payment, or be reimbursed for payment of any other service, examination, or treatment that is performed as a result of and within 72 hours of responding to the advertisement for the free, discounted fee, or reduced fee service, examination, or treatment.